Christmas 1996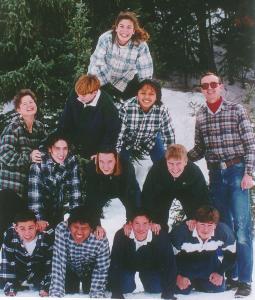 Sometimes I wonder what complacency feels like. Does one live life differently when it is predictable, stable? Clearly this is a rhetorical question as we will never know! Surprises awaited us around every corner as we take stock of another year.
Illinois sprung a big surprise on us when they agreed to return Corey (left, 2nd row from top), 15 1/2, to us rather than leave him in residential treatment. The eternal Peter Pan who "will never grow up", he has kept a job at McDonald's for several months – a record in perseverance for him. Knowing what it is to be without he is very generous with what little he has – determined to put a dime in every Salvation Army bucket.
Paul and I did the aging, middle class, American thing and bought a 28′ motor home last spring. Traveling takes on a different dimension when you can be anywhere in the country all day and still sleep in your own bed at night. To break it in we hit the road for a month, going to Washington D.C. to visit Paul's sister and her family and taking in a few preliminary rounds of Olympic soccer. Paul and Corey, unfortunately, had to return home after two weeks so they left on the train. Rebecca, Amber and I did the Eastern tour thing – visiting Monticello, Plains, Georgia (where we met the Carters), the Olympics, Pensacola Beach (wonderful!), New Orleans, (Bourbon Street – now there's an appropriate place to take a 15 year old!), Dallas, and several plantations and wineries along the way. It was a relaxing, super time, made more so by the style in which we traveled. Me, charging gas with abandon at $75 a whack, and Paul slaving at home to pay for it. It's not too late to buy that petroleum stock!
As one of thirty people on the team, Rebecca (middle, 2nd row from bottom), 23, has been instrumental in the design and assembly of her very own satellite, to be launched from the Indian Ocean in May. Upon graduation this spring with her Aerospace Engineering degree, she is off to Europe for as long as her money holds out with the clear understanding that, upon her return, she must "Sha na na na, Sha na na na na, Get A Job!"
Jonathan (2nd from left, bottom), 22, lives at home, is taking classes at the University of Colorado Denver Center, where he is a junior, and works as a life guard at the rec center next door to us. He continues his love of the flute and has a new interest – figure skating! Unfortunately, the rink where he takes lessons is not next door, but 35 miles away in Vail. Silverthorne to Denver to Silverthorne to Vail to . . . better buy more oil stock!
Matthew (right, 2nd row from bottom), 20 and living at home, has joined the "Middle Class" by taking on a debt load which left us hyperventilating. He is working two jobs to support a $17,000 truck and grabbing sleep when he can – at the table, in the middle of a conversation, etc. He is very active in our local search and rescue group which gives him an excuse to be a total gearhead – ropes, caribiners, cell phone, pager, scanner, etc. He plans to head back to college in the fall, but for now, go for the gusto!!
Ruben (right, bottom), also 20, successfully graduated from high school. He continues to work as a line cook in a local restaurant while he finds his niche in life. Local parents will insist that niche is as a PE teacher, for his skills as a youth soccer coach this fall were unsurpassed. His team of 4th and 5th graders, anxious to start practice, would call over the fence between our house and the park "Ruben, Ruben! We're ready to play!" I think he had more fun than they did!
James (left, bottom), 19, graduated from the Collbran Job Corps with a high school diploma in March. He is out on his own, splits time between Denver and Silverthorne and currently works a couple of restaurant/ fast food jobs for food (and $$). Fortunately, his taste (more like means) hasn't allowed his investment in a $17,000 car. Since getting his driver's license in March, he's totaled one car, banged up his second one (twice!) and fender bent his birth mom's car. Sell that insurance stock!
Robert (2nd from right, bottom), 19, has yet to escape his drug and alcohol abuse. He walked away from a residential treatment program that we had high hopes for and is now "living" at the county jail. He gets out this Spring and says he's planning to head to Texas, where he was born. That's probably not the answer, but neither is staying in Summit County.
Rachel (right, 2nd row from top), 18, is propelling herself through Adams State College, carrying 21 hours and going to summer school in order to graduate with a double major in psychology and sociology in under three years. She's not sure what she wants to do, but whatever it is she will get there fast.
Jesse (left, 2nd row from bottom), 17, continues to live with others in a foster care situation. He is pursuing fame and fortune as an Hispanic rap star. He is quite good and his group has several recordings and "gigs" to its credit. He needs to work on a good stage name as "Hage" is a little too German for the Latino crowd!
Amber (top), 15 1/2, Paul and I are in the middle of an amicable separation. With our blessing, she has left home to find herself. The first place she's stopped to look is at her birth mother's home in Denver. She's been there over a month, enjoys being closer to her birth siblings James and Jesse and is quite content. Yes, it's painful. But Amber is a fine, bright young lady with a history of making good decisions, so we don't worry (well, not too much) about her.
I Ar Nou A Grajute! June 8 I collected a document which said I possessed a Master's degree in Social Work. I am now in private practice wondering how to repay $16,000 in student loans when steady employment has never been my cup of tea. When people call for help and the biggest issue is with their child's bed wetting I breathe a sigh of relief.
Paul has been virtually incommunicado since January when he took on a special assignment for Public Service Company, working on their merger with another utility. Through November, he alternated weeks working in Denver and Amarillo, Texas, flying south 17 times and making over 140 roundtrips between Silverthorne and Denver. All ya'al better buy the whole awl patch, now – heah!
Surprises, welcome and unwelcome, filled the year. Reb's satellite and Jon's figure skating are juxtaposed with Robert's lengthy jail term and Amber's abrupt departure and who is to say which of these surprises do or do not impart blessing. Perhaps, even in the events which we prefer to not endure, the will of God is present. Which is part of the message of Christmas. God comes to a stable, God comes in poverty, God comes in surprising ways and who are we to say with any certainty, "God is here" or "God is not here". God comes. God comes! Whether we are aware of it or not, whether we like or dislike the manifestation, God comes and visits each of our lives in new and surprising ways.
Blessings and peace as we celebrate the coming of the Christ.
Paul & Deborah