Christmas 1990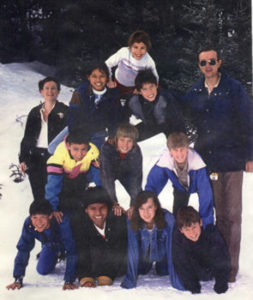 A Joyful Christmas to you all, Pyramid in the snow made with children on their hands and knees, 1990
Our cup certainly overflowed this year! A year marked more by what didn't happen than what did. Rebecca wasn't killed when she hit a truck and totaled the car. No one was picked up for theft or placed on probation. Charges of child abuse, which were taken to the police by one of the kids, were found to be untrue. Another ran away but decided not to make it permanent. In a variety of ways our number could have been tragically diminished, but we are all here, and for that I give God the glory. (God is deserving of glory whether or not life goes well for us, but discussing that is another letter.)
This year was much more than going from one near-miss to another, though. The same week that Rebecca totaled the car she had to serve detention for skipping class. She ended the week by being awarded $500 as the Outstanding Aerospace student in Colorado in 1990. Nice balance.
Jonathan reached the age of adulthood, as marked by teens, got his driver's license and is eager to run errands for me. I have come to depend upon him to do the grocery shopping almost entirely. His music continues to take a high priority and he is now the owner of a piccolo and two excellent flutes, one for taking to and from the school for band practice and one for performing.
Matthew is still having a love affair with his Legos and spends hours on intricate constructions. He is leaning toward architecture as a career and photography as a serious hobby. The only problem is that he can't afford a camera and so his hobby is largely theoretical!
Our star soccer player is Ruben, who played with the 8th grade team instead of with his 7th grade classmates. He is an excellent all-around athlete. However, the one sport he is not eager about anymore is skiing. With his Texas background he has decided that it is too cold.
Robert, on the other hand, finds his life in skiing and is an outstanding addition to the race team. Maintaining his eligibility to participate in sports is of consuming interest to him. He has never been as attentive to his school work as he is now.
Between Ruben and Robert Paul and I have found a new challenge! Our hot-blooded Latinos have hormones racing years ahead of what our cooler, Germanic experience has enabled us to deal with. Help! Perhaps another non-event for which we can be thankful is that we are not grandparents.
James races with Robert and must also be constantly aware that grades are the passport to eligibility. His temperament has evened out to a sunny likeability. For the first time in his life he has some friends that like him back and for James that is a triumph!
Volleyball is Rachel's new love. Her other novice venture this year, playing the French horn, has also been successful. September was a little rough on everyone's ears, though, because she took practicing her horn as seriously as practicing volleyball.
Jesse joined Amber at Summit County Christian School this fall and is glad Paul and I won the battle that put him there. It is a very challenging school but the stability of the small environment (he is one of three 5th graders) is working wonders for him and his roller coaster moods.
Amber has discovered Nancy Drew! They are a little too difficult for her, but she perseveres. Her switch to a private school means she has finally met a teacher who expects her to do more than smile. What a diligent worker the new challenge has made her.
Sometime in '91 Erica will be winging her way back home to Texas. She has become a likeable, hardworking young lady with more characteristics similar to her parents than dissimilar. They are looking forward to her successful return home and she is eagerly awaiting the completion of her therapy. It will be a bitter-sweet separation for me.
Optimist's International counts Paul as one of their harder working volunteers. He is now District Lt. Governor and helps other chapters with their programs as well as running soccer locally. Public Service Company is still his main occupation, however, and worked him hard as a labor negotiator. At least that is what he told me when he called at two in the morning from Denver. All I heard in the background was heavy breathing, so what am I to believe?
I am finding it is easier to preach what I should be practicing than to practice what I preach and have entered the lecture circuit with my "Parenting with Pizazz" series. The kids are astounded there are people who actually pay to hear me talk. They would pay to shut me up!
Summer was totally waterlogged. June 30th we all took off for Washington State and Holden village. After 2 weeks Paul took Amtrak home and I continued on with the kids for another 2 1/2 weeks. We swam in a Canadian lake, Puget Sound, the "Japan-side" of the Pacific, the Columbia River. We swam in hot water, cold water, fresh water, and salt water. We ate fresh shrimp, crab, oysters, and, salmon. We had a ball – however, our van truly suffered. The air conditioning went in Ellensburg, WA. The distributor stopped distributing in Canada. The ignition stopped igniting on the Olympic Peninsula. The spark plugs stopped sparking in Barview, Oregon. The Dalles in Oregon hit the jackpot. It claimed our radio, power steering, odometer, and speedometer. After two days in the shop, Rebecca and I decided to make a mad dash home before anything else broke. We covered the last 1200 miles in 24 hours. In all, we drove almost 5000 miles and put in over $1000 in repairs. Expensive shrimp and swimming.
We have entered rabbitry big time and now have 7 rabbits. Since the hutches are fairly loose, homemade constructions our little bunnies have a habit of getting free. Prayers are offered almost daily that we are not 4 weeks away from enlarging the warren. The Hage warren is holding fairly stable, though we hope to get a little boy in the spring. With Erica leaving I couldn't stand to have a hole at the table!
Hope there are no holes at your table, or in your lives, that the love of Christ can't fill!
Peace and Joy,
Paul and Deborah